Years ago, specifically in 2008 when Intel announced it's first consumer-grade SSD titled X25-M, an SSD was just an impossible dream for the overwhelming majority of consumers due to the unreasonably high price it was tagged with (It was priced at $595 for just 80 GB of space.) But since then, SSDs are getting more and more appealing by the day. Already nowadays their retail pricing is affordable for most home users and gamers who only require capacities up to 256GB for their primary HDD.
Yes, SSD is great, and it's magnitudes faster than traditional mechanical hard drives (HDD) in every sense of the word, and you'll not fully realize how supreme it is until you try one yourself into your personal computer.
We've already accomplished compiling a few guides on solid state drives now, such as Laptop SSD Guide, PS4 SSD Guide, and Gaming SSD Guide. Now it's the time to compile a Desktop 3.5-inch SSD Guide as many desktop users look forward to upgrading their computer to an SSD and thus need a guide in this pursuit.
Actually there's no additional significant issue to speak about in this guide more than what we've already discussed in those previous guides, except that modern consumer SSDs all come in 2.5-inch form factor, which primarily fit into laptop systems, whereas desktop systems require a 3.5-inch form factor drive to fit into the standard ATX case drive bay.
SSD in 3.5″ Form Factor is EXTINCT
The last seen 3.5″ SSD in the market was in 2007 when a company called Mtron released its unsuccessful, short-living MSD-S series SSD. A year later, SSD manufacturers like Intel, confined the focus and efforts only into developing SSDs in 2.5″ form factor and that's for a logical reason that a 2.5″ form factor can be deployed in both laptop and desktop computers whereas the 3.5″ form factor is exclusively for desktops.
3.5-inch Workaround
You may wonder how a 2.5″ SSD fit into a 3.5″ desktop drive bay! The answer is not that difficult as it might seem—simply use a 2.5″ to 3.5″ drive bay adapter and you'll be done!
For this purpose we recommend the following drive bay adapter. Currently, as of the time of writing, it's priced at $6.99 on Amazon.
There are other good brands also out there, but we'll not elaborate more on this issue in order to preserve more space on this article to discuss SSD.
Now, after you've found a way-out of this problem, another different problem arises: What's the best SSD to pick for my desktop PC?
You may have already learned that an SSD in 3.5-inch form factor had "retired" and is no more in service since almost a decade, and any SSD you will cross by in the market will only be 2.5″. Therefore we'll only lay out below that form factor of SSDs.
The Best SSD for Desktop Computers
The SATA-III interface is still deployed in most modern laptop computers despite the emergence of new smaller form factor SSDs that employ either mSATA or M.2 interface and are found in the most sophisticated high-end desktops.
In this article though we'll exclusively spot the light on SSDs with SATA III interface because they are the most popular and current SSDs nowadays.
Our Criteria for Selecting the Best SSDs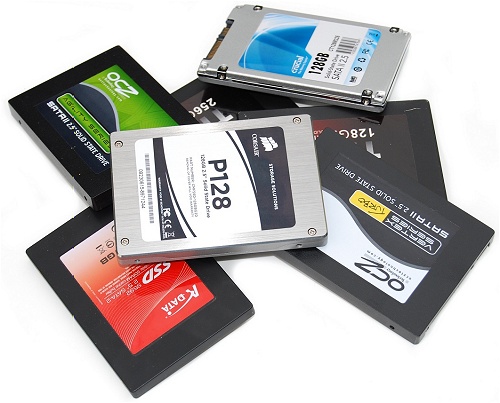 There are many SSD brands dispensed on the market and each brand claims high-end performance with amazing features.
While we believe that the slowest SSD is still much faster than the fastest laptop hard drive, we'll follow a strict method though for choosing the top-notch SSDs for our roundup below. This method is mainly based on the verdicts of IT professionals such as Tom's Hardware, Anand Tech, Storage Review, Tweak Town and others who reviewed the chosen drives and published their reports on their websites. You can view some testimonials of these experts once you click the view more details button below each particular drive you focus on.
Moreover, we have only authorized three SSD manufacturers that are some of the highly-reputed and the most prominent in the industry, that's to make sure you'll just get the top-notch and highest quality SSDs on the market.
Additionally, we have classified the SSDs below into two categories:
1. ENTHUSIAST— where the highest-end SSDs designed for power users are placed. These SSDs come with a so long warranty (between 5 to 10 years) and most solid endurance that entitle them to handle the toughest data workload without degradation in performance. These SSDs are good for addict gamers who only play highly-sophisticated resource-demanding games so often, professional video editors who work on huge high-definition movies, and webmasters who manage small network servers.
2. MAINSTREAM—where the SSDs designed for the overwhelming majority of users placed. These SSDs are good for those who consider themselves non-enthusiasts but want, at the same time, to increase their computer's speed and have a quickly-responsive system for their personal preferences. These SSDs usually come with a warranty between 3 to 5 years limited.
What's in Our List
We have chosen 10 SSD drives, half of them are for enthusiasts and the other half are for regular users (mainstream).
Below is a table that manifests a quick overview of the certain drives we have selected.
Best Desktop SSD Brands
Manufacturer
Brand Name
Class
Available Capacities
Price Range
Samsung
Samsung 850 Pro
Enthusiast
128gb, 256gb, 512gb, 1tb, 2tb
$80 to $700
Samsung 850 EVO
Mainstream
128gb, 256gb, 512gb, 1tb, 2tb
$80 to $700
SanDisk
SanDisk Extreme Pro
Enthusiast
240gb, 480gb, 960gb
$80 to $700
SanDisk Ultra II
Mainstream
240gb, 480gb, 960gb
$80 to $700
OCZ
OCZ Vector 180
Enthusiast
240gb, 480gb, 960gb
$80 to $700
OCZ ARC 100
Mainstream
240gb, 480gb, 960gb
$80 to $700
About the Top Two Selections
We have placed Samsung 850 Pro on the top of our list because it's the fastest SATA III SSD ever made. The SanDisk Extreme Pro though is its bitter rival and it outranks it on some benchmark tests.
Being the fastest doesn't necessarily mean the strongest. In heavy workload environments SanDisk Extreme Pro beats Samsung 850 Pro, but as a laptop user this issue should not be of your concern, it concerns only network server managers.
Here are two quotes from two renowned SSD experts and reviewers who testified the above fact:
The goal of the Extreme Pro was to be the fastest client SATA drive on the market, and it succeeded in that (before the 850 Pro came out, although the two are very close).
["Anand Tech" on September 16, 2014]
The SanDisk Extreme Pro SSD currently sits at the top of every High-Performance SATA slot in our Best SSDs of 2015 ranking. The drive is an amazing performer that retains its high performance even under extreme load. Because of that, we've chosen it over Samsung's 850 Pro that can lose performance after heavy use. The Extreme Pro has everything you would expect to find in a workstation SSD, so seeing them at mid-level prices gets us excited.
["Tom's Hardware" on November 27, 2015]
Other experts though may disagree with Tom's Hardware like bit-tech who considers Samsung 850 Pro the best SSD in all aspects:
The SSD 850 PRO is still the best drive on the market – no other manufacturer can yet compete with what its 3D V-NAND offers in terms of performance and endurance.
["bit-tech" on March 24, 2015]
If you ask about my personal opinion, I would adopt Tom's Hardware's opinion because they conduct robust testing in different environment for each SSD they review which highly raises the credibility of their verdicts.
About the Third Selection (OCZ Vector 180)
This drive is a better fit for desktop computer than laptops due to the relatively higher power consumption compared to other high-end SSDs. This drive though is the best ever in terms of reliability (it has the lowest failure rate an SSD could have) and warranty (an outstanding warranty plan that is not found in any other brand).
Our Desktop SSD Roundup
Samsung owns 50% of the solid-states storage market share. When it comes to client-oriented drives, that percentage increases, and in some countries goes as high as 80%. Samsung manufactures roughly 50% of the world's NAND memory supply, too. Not all of the flash goes into SSDs; much of it goes into cell phones, tablets, children's toys, SD cards and even automobiles.
---
Samsung 850 Pro
The Samsung SSD 850 PRO is a 2.5" form factor SSD for enthusiasts that is the first drive to be powered by 3D virtual NAND technology. It comes in capacities ranging from 128GB up to 1TB. Not only does it boasts some pretty impressive speeds, it has a high endurance, secure encryption, RAPID mode to enhance user experience, and a 10-year warranty. It also claims to be one of the most energy efficient drives on the market, which the real-world testings conducted by many IT professionals proved to be mostly true with its very low idle power usage. This makes it undoubtedly the most suitable SSD for portable computers.

View More Details

| Capacity | Model # | Where to Buy |
| --- | --- | --- |
| 128 GB | MZ-7KE128BW | |
| 256 GB | MZ-7KE256BW> | |
| 512 GB | MZ-7KE512BW | |
| 1 TB | MZ-7KE1T0BW | |
| 2 TB | MZ-7KE2T0BW | |

Official Product Description:

The Samsung 850 PRO SSD redefines storage with the world's first drive based on 3D VNAND flash, offering exceptional read/write performance, reliability and power management efficiency. The 850 Pro delivers up to 2x the speed, density and endurance of conventional flash. The next leading SSD for performance, endurance and energy efficiency.

Basic Features

The World's First Consumer 3D V-NAND SSD
Class-leading performance — enables you to boot up your computer in as little as 15 seconds
Energy efficient – Features Device Sleep mode for Ultranotebooks and improves battery life by up to 45 minutes vs. standard hard drives
Worry-free data security with AES 256-bit encryption, Microsoft Bitlocker and TCG / Opal 2.0 support
5th-generation 3-Core Samsung MEX Controller ensures sustained performance under the most punishing conditions
Enhanced endurance and reliability – Backed by an industry-leading

10-year limited warranty

and 150TBW rating
Perfect for hardcore gamers, mobile users or content creators (like professional animators, video editors, photographers and game developers) who crave the ultimate in performance and productivity

Awards & Testimonials

---

Samsung does not cease to amaze me with their SSDs as the 850 Pro just kills it in every aspect. The performance is there. The endurance is the best of the class. Heck, even Samsung's feature and software suites beat the competition by a mile. To be honest, there is not a single thing missing in the 850 Pro because regardless of the angle you look at the drive from, it it will still top the charts.

If you are looking for a SATA 6Gbps drive and want the absolute best, the 850 Pro is your pick. It is without a doubt the best drive in the market as long as you are able to justify the price premium over other options.

---

Tom's Hardware

June 30, 2014

I can say that Samsung turns the dial as high as it'll go for SATA 6Gb/s. There's not much room left to innovate until we start seeing versions of the 850 designed for alternative interfaces.

---

Storage Review

June 30, 2014

The Samsung SSD 850 PRO gives enthusiasts about everything they could want in a single SATA SSD. Like drives before it, Samsung has infused the SSD 850 PRO with new technology to make it a class leader in terms of performance, endurance and warranty.
---
Samsung 850 EVO
The SSD 850 EVO continues Samsung's trend of developing class-leading and innovative SSDs by improving on the 840 EVO on virtually every level using the company's latest software and hardware technologies. Available in capacities up to 2TB, the 850 EVO comes equipped with a MEX controller (or the MGX controller for the smaller capacities), which allows Samsung to quote reads speeds up to 540MB/s as well as upwards of 98,000 IOPS in throughput. The performance is coupled with impressive endurance numbers, support 40GB of writes per day in the 120/250GB drives and 80GB of writes per day in the 500GB, 1TB and 2TB models.

View More Details

| Capacity | Model # | Where to Buy |
| --- | --- | --- |
| 250 GB | MZ-75E250B/AM | |
| 500 GB | MZ-75E500B/AM | |
| 1 TB | MZ-75E1T0B/AM | |
| 2 TB | MZ-75E2T0B/AM | |
| 4 TB | MZ-75E4T0B/AM | |

Official Product Description:

Upgrading your PC with a Samsung SSD is the most economical way to breathe new life into an aging PC. The 850 EVO reads, writes and multi-tasks at incredible speeds, enhancing boot-up speed, application loading and multi-tasking performance. It's more than an upgrade, it's a complete transformation of your PC.

More Features

Interface: SATA 6Gb/s (Compatible with SATA 3Gb/s and SATA 1.5Gb/s)
NAND Flash: 32 Layer 3D V-NAND
Optimized performance for everyday computing needs
Sequential read speed 540 MB/s; Sequential write speed 520 MB/s; Random read speed 100K; Random write speed 90K
Energy efficient – improves battery life by up to 50 minutes vs. hard disk drives
Worry-free data security with AES 256-bit, TCG/Opal v.2 and Microsoft eDrive full-disk encryption
Backed by a five-year limited warranty

Awards & Testimonials

---

Anand Tech

December 08, 2014

By combining TLC with V-NAND technology, Samsung is eliminating any and all concerns that people might have had about the endurance of TLC NAND and to back that up Samsung is rating the 850 EVO's endurance higher than the MLC drives of most manufacturers.

Not only is the endurance higher, but the 850 EVO's performance is also better compared to its predecessor. In our 2011 Storage Benches the 850 EVO matches up with the 850 Pro and is hence one of the fastest SATA 6Gbps SSDs for typical client workloads.

The 850 EVO is clearly the best performing "value" drive.

---

Tweak Town

December 08, 2014

The 850 EVO is not just a fish out of water, it's a fish that grew arms, legs, and lungs; a fish actually accomplishing such a feat would be miraculous, and that is what the 850 EVO is to the SSD world. Samsung has brought the company's best technology together to chance the SSD market.

---

Storage Review

December 08, 2014

Overall, the Samsung 850 EVO is an incredibly impressive drive with bar-setting performance, a solid design, and Samsung reliability. The 850 EVO is so good in fact, it even topped the 850 PRO in many areas. We really can't recommend this drive enough for those who want the best combination of performance, endurance and cost. Samsung has impressed yet again, topping themselves with an excellent drive on nearly all fronts.
---
SanDisk Corporation is a company that designs, develops and manufactures flash memory storage devices and software. SanDisk is the third-largest manufacturer of flash memory in the world. In October 2015, Western Digital agreed to buy SanDisk Corp in a $19 billion deal. [Wikipedia]
---
SanDisk Extreme Pro
The SanDisk Extreme PRO SSD is designed specifically for gamers, PC enthusiasts, and media professionals who require consistent, top-in-class real-world performance out of their storage. With its quoted sequential read speed of 550MB/s and write speed up to 520MB/s, the SanDisk's new Extreme PRO certainly is specced to deliver the performance needed for graphics-intensive applications in addition to speedy gaming load times. The Extreme PRO also boasts an industry first a 10-year warranty to assuage any concerns about the drive's expected longevity and SanDisk's commitment to the drive.

View More Details

| Capacity | Model # | Where to Buy |
| --- | --- | --- |
| 240 GB | SDSSDXPS-240G-G25 | |
| 480 GB | SDSSDXPS-480G-G25 | |
| 960 GB | SDSSDXPS-960G-G25 | |

Official Product Description:

The SanDisk Extreme PRO SSD is designed to deliver 24/7 consistent high performance to power gamers, developers, and media professionals in the most demanding situations. This drive includes exclusive nCache Pro technology that delivers consistent high performance with super-fast read and write speeds as well as long drive life. From the company that invented the solid state technology that makes SSDs possible, the SanDisk Extreme PRO SSD comes with a 10-year limited warranty and is the ideal choice for demanding PC users who need instant results and no-wait multi-tasking.

Basic Features

Innovative SanDisk nCachePro technology delivers sustainable high performance 24 x 7 x 365
Sequential Read Up To 550 MB/s; Write Up To 515 MB/s
Up to 33% longer laptop life
TRIM support and Background Garbage Collection constantly free up unallocated blocks that once held data to lower latency and boost performance
SanDisk SSD Dashboard includes S.M.A.R.T. support to monitor the health of your SSD in real time to prevent data loss
Backed with

10-year limited warranty

.

Awards & Testimonials

---

The Extreme Pro is without a doubt the fastest SATA 6Gbps SSD in the market. As Anand said in the Extreme II review, SanDisk has picked an excellent balance of IO consistency and peak performance, resulting in high performance regardless of the workload.

SanDisk is turning out to be a very dangerous player in the client SSD space. With nearly perfect vertical integration model (they just lack client controller silicon and DRAM), SanDisk has the ability to put against Samsung and Intel who have traditionally held the performance crown. Before the Extreme II, SanDisk was fairly unnoticeable in the retail SSD market, but the Extreme II acted as a warning of SanDisk's skill and know how, and the Extreme Pro just further reinforces that. If SanDisk can keep their pace going with PCIe SSDs, others will have hard time keeping up with them.

---

Hot Hardware

November 20, 2014

We think SanDisk's Extreme Pro series of solid state drives are top-notch and worthy of consideration for your next build or upgrade. Overall performance is very good, the drives offer high endurance and they're backed by an industry-leading warranty from a company that's been around for ages. If you're looking for a high-performance SSD, SanDisk's Extreme Pro series of drives should be on your short list of possible contenders.

---

Storage Review

June 25, 2014

The SanDisk Extreme PRO family of SSDs delivers consistent best-in-class real-world performance with the ability to easily handle virtually any resource-intensive application paired with an aggressive price point and industry leading warranty.
---
SanDisk Ultra II
The Ultra II is designed to deliver an inexpensive and easy upgrade solution for customers looking to improve the performance, battery life, and power efficiency of their PCs. In addition, the enhanced SSD Dashboard offers tools and visibility for drive's performance, security, and available firmware updates. The drive quotes sequential read speeds up to 550MB/s and write speeds of up to 500MB/s while leveraging TLC NAND flash. The SanDisk Ultra II SSD is backed by a 3-year warranty.

View More Details

| Capacity | Model # | Where to Buy |
| --- | --- | --- |
| 120 GB | SDSSDHII-120G-G25 | |
| 240 GB | SDSSDHII-240G-G25 | |
| 480 GB | SDSSDHII-480G-G25 | |
| 960 GB | SDSSDHII-960G-G25 | |

Official Product Description:

Get accelerated performance from the brand trusted by pros. Featuring SanDisk's nCache 2.0 technology, the SanDisk Ultra II SSD delivers enhanced speed and endurance with sequential read speeds of up to 550MB/s and sequential write speeds of up to 500MB/s, for no-wait boot-up, shorter application load times, and quicker data transfer. In addition to cooler, quieter computing, the SanDisk Ultra II SSD includes proven shock and vibration resistance to protect your drive. From the company that invented the solid state technology that makes SSDs possible, the SanDisk Ultra II SSD catapults your performance to new levels.

More Features

Sequential Read 550MB/s; Sequential Write 500MB/s
SanDisk's nCache 2.0 technology delivers enhanced speed and endurance
NCQ support manages queue length for better multitasking and workload management
Limited 3-year warranty (US)

Awards & Testimonials

Anand Tech

September 16, 2014

With the Ultra II, SanDisk finally has a value drive that is competitive in both price and performance. I am glad that SanDisk is showing more commitment to the retail space because if there is one company that can challenge Samsung and Micron in all aspects, that is SanDisk.

---

APH Networks

March 06, 2015

Created with a super compact circuit board inside, SanDisk's excellent reputation for reliability, great performance across the board, and only $110 at press time, the Ultra II 240GB hits all the right notes concurrently.

---

The SSD Review

September 15, 2014

Overall, due to the performance and low entry level price point, we feel that the SanDisk Ultra II is deserving of our Top Value award.
---
OCZ Storage Solutions – a Toshiba Group Company is a leading provider of high performance client and enterprise solid-state storage products and is a wholly-owned subsidiary of Toshiba Corporation. Offering a complete spectrum of solid-state drives (SSDs), OCZ Storage Solutions leverages proprietary technology to provide SSDs in a variety of form factors and interfaces to address a wide range of applications.
---
OCZ Vector 180
The Vector 180 SSD (currently available in 120GB, 240GB, 480GB and 960GB capacities) is based on the latest Barefoot 3 NAND flash controller by OCZ (runs at 397MHz as opposed to the 352MHz of the one found in the ARC 100) paired with A19nm MLC NAND flash modules by Toshiba—a combo which produces excellent read/write performance numbers (550MB/s & 530MB/s respectively), superior endurance (has a MTBF rating of 2.3 million hours and an write endurance rate of up to 50GB per day) and finally offers SMART/NCQ support and AES-256bit encryption. Of course OCZ fully covers their flagship model with their 5-year ShieldPlus warranty.

View More Details

| Capacity | Model # | Where to Buy |
| --- | --- | --- |
| 120 GB | VTR180-25SAT3-120G | |
| 240 GB | VTR180-25SAT3-240G | |
| 480 GB | VTR180-25SAT3-480G | |
| 960 GB | VTR180-25SAT3-960G | |

Official Product Description:

Developed by the most awarded SSD brand of all time, OCZ Vector 180 SSDs offer the be-all and end-all of feature-sets for the most demanding users who won't settle for anything but the best. Featuring enhanced performance, reliability, and endurance, the Vector 180 series provides a flash storage solution second to none. It's everything you know about SSDs, but better. Vector 180 was designed to redefine best-in-class storage and built to excel in high-end computing environments. Only the fastest boot ups, file transfers, and system responsiveness are acceptable for Vector 180 users. Say goodbye to every form of storage lag and get a computing experience worthy of your time. With superior reliability in mind, Vector 180 SSDs feature Power Failure Management (PFM) to protect the drive in the event of system power loss, ensuring you're up and running again in no time. Vector 180 offers real world performance that you won't get with any other solution. No fancy behind-the-scenes tricks, just pure storage performance. With Toshiba technology built into every drive, each Vector 180 SSD is engineered for superior quality as well as durability with its premium alloy housing.

Basic Features

Proprietary OCZ Barefoot 3 controller technology combined with the latest Toshiba A19nm flash
Power Failure Management (PFM) helps prevent 'brick drive syndrome' that can occur during sudden power losses
Advanced firmware suite of NAND flash management keeps your drive at higher sustained performance over the long term comparing to competing solutions
Excellent endurance rating at 50GB/ day of host writes for 5 years perfect for power user applications and workloads.
Excels in both incompressible and compressible data types such as multimedia, encrypted data, .ZIP files and software
Bundled with a 3.5-inch desktop adapter and Acronis True Image cloning software to easily transfer data from your old hard drive or SSD
Sleek housing offers slimmer 7mm z-height for compatibility with the ultra-thin notebooks
OCZ Shield Plus Warranty- an elite worry-free customer service experience, which eliminates all the hassle surrounding traditional support and warranty claims consumers often have to deal with.
Backed with

5-year limited warranty

.

Awards & Testimonials

---

Tom's Hardware

March 24, 2015

New reliability features are nice as long as the performance penalty isn't too high. Time will tell, but this could be the most reliable SATA-based SSD to come to market.

---

OCZ will also bring in the entire experience, from durability, endurance, encryption compatibility, blazing fast performance and of course reliability. This SSD series is testimony of that as it is among the fastest and most sweet SATA 3 SSDs we have tested to date. No compromises are made here as it is all about endurance, reliability and super fast performance.

---

Throughout our suite of benchmarks the Vector 180 clearly demonstrated consistently high-performance. Not all drives can handle sequential read and write transfer rates, and quite often we find a drop in performance but the combination of Barefoot 3 controller and Toshiba A19 NAND allows Vector 180 to tackle these demanding tasks.

The OCZ Vector 180 is designed for the enthusiast and as such delivers the performance and features an enthusiast demands. Advanced power failure features and impressive warranty service make this drive a top-pick!
---
OCZ ARC 100
OCZ ARC 100 Series SSDs are designed for mainstream consumers who want the benefits of flash storage without a big price tag; the ARC 100 gives consumers an aggressive suggested price point of .50/GB. OCZ doesn't cut corners though with the ARC 100, part of the pricing power is due to the vertical integration with parent company Toshiba. Jointly they own all of the core components in the drive, including the controller and Toshiba MLC NAND. The ARC 100 offers a good endurance profile, supporting 20GB of writes per day (same as the Vertex 3) and the drives come with a three-year warranty.

View More Details

| Capacity | Model # | Where to Buy |
| --- | --- | --- |
| 120 GB | ARC100-25SAT3-120G | |
| 240 GB | ARC100-25SAT3-240G | |
| 480 GB | ARC100-25SAT3-480G | |

Official Product Description:

Solid Performance for Notebooks and PCs: With OCZ's Arc 100 Series, get lasting SSD performance and an exceptional computing experience, all while delivering an excellent value for flash storage thrill seekers. Imagine faster boot-ups, snappier file transfers, improved energy efficiency, and system responsiveness that make you wonder why you put up with that hard drive for so long. If you're ready to make the leap to a more durable alternative to spinning discs, the Arc 100 Series is ready to take on your storage challenges at an upgrade-friendly price point.

More Features

Cutting-edge A19nm process geometry NAND offers excellent value for consumer desktops and laptops
Emphasis on endurance, rated for 20GB/day of host writes for 3 years (typical client workloads)
Proprietary Barefoot 3 M10 controller technology delivers superior sustained speeds over the long term
Excels in both incompressible and compressible data types such as multimedia, encrypted data,. ZIP files and software
Advanced suite of NAND flash management to analyze and dynamically adapt as flash cells wear
Superior reliability with in-house technology and high quality components based on the latest technology
Sleek alloy housing offers ultra-slim sub-7mm z-height for use in the latest thinner form factor notebooks
Max Sequential Read Speed 490MB/s; Max Sequential Write Speed 450MB/s; Up to 80K IOPS
Limited 3-year warranty (US)

Awards & Testimonials

If you want a drive with steady performance and a long life while not blowing your wallet, then get the OCZ ARC 100. Offering a steady throughput at all fill stages and barely any degradation, even over long periods of usage. With the offering of higher write speeds then most competition in this segment, the ARC 100 is a perfect drive for an office or family PC, ensuring reliability and performance that suits everyday tasks.

---

The Arc 100 is a good example of an entry-level drive posting solid numbers across the board. There's a fine balancing act between features, price and accessories, though we would encourage OCZ to include some form of cloning software across its entire spectrum of SSDs. Other than that, the Arc 100 240GB, a well-balanced drive, deserves to be on a shortlist if budget is of primary importance.

---

Overclockers

May 05, 2015

Excellent performance, a great warranty program, and a good software package in SSD Guru all add up to a value that's tough to beat at $99. The OCZ ARC 100 is easy to recommend and is a worthy recipient of our Overclockers Approved stamp.
---
MORE GAMING SSD OPTIONS
There are still powerful SATA III SSD in the market that we did not lay out in our list above because they have their own disadvantages compared with the above items, but the brilliant name and glowing reputation they own allures us to list them here as additional options for our readers.
---
---
The Benefits of SSD for Desktop PCs
You may already have wondered that why to pay a premium for an SSD while it's possible to obtain a high-end enterprise hard disk drive (HDD) for the same price and exponentially larger in space? Is it just speed or there's something else in SSDs persuades users to possess one for their desktop PCs?
In fact, although speed is the strongest advantage of SSD over HDD, there are other aspects of power that make SSD more than just a speed booster.
You have to know first that speed alone cannot be an independent factor to bestow superiority upon SSD over HDD. What really makes the explicit and decisive difference is: Performance.
Performance can be determined by three major factors: speed, reliability, and endurance.
Speed stands for the time spent by SSD to make requested data fully available for access ("read" functionality) or to completely store the data transferred to it ("write" functionality). Lesser the time, faster the SSD. But you have to carefully note that speed is not everything in this equation. Data can be handled with errors yet the task is deemed "fulfilled". This what leads us to the next factor.
Reliability stands for the rate of sucessfulness on achieving the task perfectly without errors/failures. Lower the rate, more reliable SSD is.
Endurance is measured by the period of time an SSD can properly and successfully function without a major degradation or failure. That means the longer SSD maintains its reliability, the longer its endurance is.
So when it comes to SSD vs HDD, SSD is the ultimate winner in all.
Below we boil down the major advantages you will acquire from leveraging an SSD into your desktop PC:
The Major SSD Advantages
SSD is way faster than HDD. This is an intuitive result of the architecture of SSD that doesn't make use of any mechanical part. Rather, the data transmission happens through piles of microscopic transistors in flash memory chips compacted together in blocks that are placed so tightly beside each other. This means your operating system and other heavyweight applications installed on it will load much faster and you'll enjoy also a high external transfer rate from/to your computer, especially when you use an external SSD.
SSD has much lower failure rate. That makes SSDs the most reliable storage devices for long-term storage purposes. And as a sufficient indication for this fact, modern

consumer

SSDs like Samsung 850 Pro comes with a

10-year limited warranty

, whereas the best

enterprise

hard drives—Seagate Enterprise Capacity v4 barely provides a

5-year limited warranty

.
The endurance of SSD is unparalleled. Yes, this is a blatant fact. SSD can bear the toughest and heaviest workloads in difficult mediums without failing, unlike hard drives. This feature concern mostly enthusiasts and professional video editors and server managers.
Multitasking with SSD is seamless and flawless. Unlike that of HDD that can handle a few multiple tasks simultaneously but with a sacrifice of performance for each task, SSD can do that brilliantly without any performance hit. This feature will help mostly enthusiasts who work on multiple applications at a time.
The Major SSD Disadvantages
Yes, although SSDs are great in almost all aspects, they have their own drawbacks that are considered minor by a specific class of users and major by others.
These drawbacks are:
SSD is way costly than HDD. This is in fact the biggest disadvantage that SSD manufacturers couldn't work around remarkably until today despite the extreme fall of prices in the last few months, SSD remain expensive.

If we just have a look at the cheapest SSD on the market, you'll find an SSD like ADATA USA Premier SP550 120GB SSD currently costs about $44 and almost $62 for the 256GB capacity. whereas a good 1TB hard drive like WD Blue 1TB Desktop Hard Disk Drive costs currently almost $55.

SSD is still too small for enthusiasts. Although the consumer-grade SSD has hit the 4TB capacity limit after Samsung announced the launch of the first 4TB model of the SSD 850 Pro lineup, SSD still doesn't match the severe hunger of enthusiasts for storage space. The 1TB or 2TB capacities are reasonable for the overwhelming majority of users in spite of the steep price they come at, but compared with HDD that has already reached 12TB of storage capacity, an SSD is still considered backward.
Difficult data recovery after failure. This concerns mostly users who have sensitive data and don't wish, by any means and at any cost, to lose them. Yes, modern SSDs have developed immensely in the last 2 years to handle the heaviest workloads in the toughest environments for a very long time without notably losing the peak performance, and you can observe that through the long-term of warranty an enthusiast SSD comes with that's between 5 years to 10 years. But this only means that SSD is SAFER but not absolutely safe, as nothing in the world is absolutely/permanently safe.

But when an SSD comes to its end unexpectedly, your worst nightmare would be to recover the stored data out of it. To overcome this issue, always keep a precautionary clone of your important data on an external device. [If you own an SSD inside your computer, an external SSD can be a good idea for external storage solution].
How to overcome these disadvantages
Fortunately, the disadvantages of SSD listed above are not left without any workaround. You can simply overcome them if you combine a small SSD (not less than 250GB) with your current hard drive in a hybrid mode. (read more about this method here)
Performance Comparison—3.5″ HDD vs 2.5″ SSD
The chart below presents the benchmark test results of WD 6TB Performance Black 3.5-inch hard drive, which is deemed "the fastest high-end desktop mechanical hard drive" and Samsung 850 EVO 2TB SSD, which's deemed "the fastest mainstream-level SSD".
Note that we deliberately put a high-end enterprise HDD against a mainstream SSD in order to prove that a mainstream SSD can easily beat the best hard drive in all performance aspects.
Performance Comparison – HDD vs SSD

| Test | WD Black HDD | Samsung 850 EVO SSD |
| --- | --- | --- |
| 2MB Seq. Read | 214.53 MB/s | 493.54 MB/s |
| 2MB Seq. Write | 214.91 MB/s | 468.10 MB/s |
| 2MB Ran. Read | 78.34 MB/s | 483.45 MB/s |
| 2MB Ran. Write | 107.05 MB/s | 467.22 MB/s |
| 4k Ran. Read [MB/s] | 0.325 MB/s | 40.18 MB/s |
| 4k Ran. Write [MB/s] | 0.811 MB/s | 116.20 MB/s |
| 4k Ran. Read [IOps] | 83.21 IOps | 10,287.13 IOps |
| 4k Ran. Write [IOps] | 207.61 IOps | 29,748.15 IOps |
| 4k Write Latency [Avg] | 4.8 ms | 0.0333 ms |
| 4k Write [max] | 1,248.19 ms | 3.94 ms |
**The numbers are acquired from storagereview.com
As you can already observe, when it comes to performance, SSD is unparalleled and it can immensely boost the overall performance of your system and take it to the next level.
FAQs on Using SSD for Desktop
Here we quickly and briefly answer some of the frequently asked questions (FAQs) about using a solid state drive (SSD) for desktop computers.
Single SSD or Multiple HDDs in RAID-0?
RAID-0 with three high-end hard disk drives can provide you almost the same sequential read speed as an SSD with a much larger storage capacity and all of that is for the same price of a single 1TB SSD, but a single SSD surpasses this method in write speed and random read/write speed.
Moreover, RAID-0 is risky, once a drive in the array fails, all the array will collapse consequently, and if you bear in mind that HDD operates mechanically, that means the average failure rate of 3 HDDs combined together is higher than that of just a single HDD.
Primarily for this reason we strongly dissuade you from having multiple hard drives in RAID-0. Rather you better use an SSD and HDD combined in hybrid mode as explained earlier.
Is SSD worth it for older computers?
Well, it has been said by many experts that using SSD in old computers would remarkably improve the overall system performance, which is definitely true. But, according to my experience in computer maintenance field, I can confidently say to stay away from SSD if your computer doesn't support SATA III, and rather go obtain a good mainstream mechanical hard drive. That's because your computer will lose lots of the speed offered by SSD, which means the premium you pay for SSD will not correspond with the minimized performance you gain. Moreover, your processor is supposed to be old enough to not handle heavy data workloads quickly, which will cut down on the speed of your system. So what's the use of employing an SSD in this environment?
I'm not speaking out of an anecdotal knowledge, rather it's a practical experience, and I strongly advise to hold off on buying an SSD until you get a new computer with high standards as there only where SSDs shine and work at their best.
SSD purposes for desktop PC
SSDs offer high responsiveness and blazing transfer speed to the systems they are incorporated in. This will mostly benefit enthusiast gamers, professional video editors, server managers and everyone who is in extreme need for high speed.
If you're a gaming enthusiast, you may want to visit our gaming SSD guide and gaming HDD guide for more elaboration and available options.
Conclusion
It's just a matter of a few years until all prominent desktop PC manufacturers adopt SSD technology and deploy it in all their new desktop releases. That's because SSDs offer unparalleled speed and high performance boost, and it's foreseen to be inevitable and imperative in every modern computer very soon, regardless being a high-end or mainstream.
Currently the biggest holdback from adopting SSD technology by desktop manufacturers in modern systems is the steep price of SSD compared to HDD, but this is soon going to be history for the extreme competition in SSD market segment which consequently results in the consistent and drastic fall of SSD prices that we observe nowadays.
If your computer is structured with a strong CPU and a powerful graphics card with more than 4GB of RAM, then an SSD is the best storage upgrade you can carry out for it. Otherwise, either you change your computer to a more sturdy one, or go trade your current old hard drive for a better one.